Most elders of today have experienced many wars and difficult experiences in life. They had diligently worked for several decades, then sent their children to the United States to further their education. Not counting the limited number of individuals who had the material resources to support their family, the rest of elders mostly came from an ordinary military background. Supporting their children up to college level education is truly no easy task. In order to join their children in a foreign land, they emigrated thousands of miles away, changing both their physical and mental environments. Savings are stored gradually, elders face deteriorating health, while combating memory loss and the death of their family and friends. In addition to the many difficulties, they have to face the concept of inevitable death, which ultimately is haunting them.
  However, the elders with wisdom can always manage to examine things from a different perspective, creating a life that is still interesting and fun. They had fought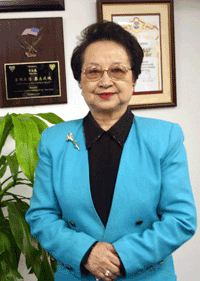 their glorious fights in life, and their age and their wisdom are bestowed like the war badge that they wear on their chests. Although they were defeated and fallen at times, their lives nonetheless remain as one of bravery and courage. No one can take away your precious earned knowledge, just like the four seasons and life itself. Being old means you are knowledgeable and you are a precious human being. If you can see life from this perspective, your life will remain full of vitality. We should never sink into despair, simply because we are old. The optimistic ones will see things differently and treat life differently.

  1. Maintain your own happiness: learn to let go, learn more interesting things in life. Feeling depressed for a prolong period will not only affect your physical and psychological health, but also shorten your life. We should learn to be independent, and on how to take care of oneself. Children's piety should be left alone on their own behalf.

  2. Learn to be content: how many of your friends are still around? How many friends have disappeared? Your life is great, because you live in Los Angeles, you are able to watch Chinese television, read Chinese newspaper, listen to Chinese radio broadcast, and you have convenient public transportation, and live in the most comfortable place for elders. The U.S. government provides elders with the utmost care, including social welfare and medical insurance, especially SSI that is given to you on a monthly basis. Aren't you supposed to feel content and happy about your life?

3. Share your happiness with others: we should join various social organizations and make many friends. SunnyDay is like a big family, where you can learn many new interests from professional educators. You learn now not because you have to acquire a new skill to earn a living, but are learning purely because you are serving your own interest. When you learn due to interest, you gain self-confidence, and when you have self-confidence, you become a happier person, and that happiness is infectious to others.

  An optimistic person can face life's challenges head on and treasure the sunny days that life has to offer. The negative ones will lose hope even when facing the tinniest diseases. These two types of people will experience life in two dramatically different ways.

  When we think of happiness, sadness, anger, and all the gives and takes, ambition and reputation, our desires will slowly melt away, which will quiet our hearts and souls. Recalling our past accomplishment and today's retrieval from the active duties, we can then think of life as the seasons, as the clouds and the streams. Why should we be so judgmental and argumentative? When you are enlightened, you will realize that we should not only live till our old age and learn till our old age, but we should also maintain our happiness into our old age. If we can respect that philosophy, we then can cultivate our life to the fullest and gain self confidence, and become the well respected elders that we are.