SunnyDay Adult Day Health Care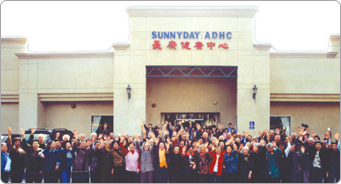 San Gabriel Valley of California has been accommodating a rapid increase of immigrants in the past 10 years, particularly immigrants from the Pacific Asian regions. Among the numerous Asian immigrants, there consists of a large number of elders, many with long-term illnesses. There are myriad of problems that new immigrants have to resolve, these include housing, education, transportation, and medical related issues. In addition to the previous mentioned. problems, elders have to combat health deterioration, language barriers, and transportation difficulties. These problems create a sense of helplessness for elders. SunnyDay Adult Day Health Care was established to provide assistance to resolve these problems. Our center provides a comfortable, personable, quiet and hygienic environment. Elders are taken cared of by our caring, loving and energetic staff.
SunnyDay Adult Day Health Care is located on 10530 Lower Azusa Road, EI Monte. It occupies an area over 10,000 square feet. The center is surrounded by convenient banks and social services centers, restaurants and shopping centers. SunnyDay strives to achieve the goal of "healthy community recovery". We aim to decrease elders' sense of helplessness and loneliness by utilizing center's various health care services. Our healthy environment allows the participants to regain their self-esteem and self-respect, and allows them to come out of the helpless hospital environment.
The followings are the goals of SunnyDay Adult Day Health Care - through day care services to provide assistance to elders who suffer from physical deterioration, immobility, or long-term illnesses. In addition, the center will fulfill the needs of the communities to provide elderly cares. SunnyDay also introduced Eastern cultures and traditions to the Western world. In the mean time, elders who are in need of language assistance and social supports are helped at the center. They are introduced into the mainstream American culture.
SunnyDay can serve over 100 hundred elders each day. Service hours are from Monday to Saturday, 8:00 am to 2:30 pm. SunnyDay follows Federal civil rights laws Secton 1557 of the Affordable Care Act in our health programs and activities. We don't discriminate, exclude people, or treat them differently on the basis of race, color, national origin sex, age or disability. For members with disabilities, we offer free aids and services. For members whose primary language isn't English, we offer free language assistance services through interpreters and other written languages.
SunnyDay provides physical therapies. These services are carried out by licensed Occupational and Physical Therapists. Pharmacist and nurses follow the instructions given by Doctors; they remind elders to take their medications on time. Center's breakfast and lunch are designed by a dietician, with careful consideration of nutritional values. Social worker and social work assistants provide psychological and social support counseling and services. Transportation needs to and from the center are taken cared of by caring drivers.
Besides the aforementioned services, Sunny Day also introduced various activities to make the elders life more fun and colorful. Group dancing helps elders to exercise from head to toe. Karaoke and singing help elders with smoother breathing and expand their lung capacity. Chess and table games help them with concentration and thinking. English lessons help elders adapting to the mainstream society, and improve their interpersonal relationships. Other social activities improve the kinships and friendship building process.
Family relationships are improved, based on the strong support by surrounding communities and the loving, caring staff. Many elders who had suffered from strokes previously have regained their will to live a healthy and functional life.
Medi-Cal eligible disabled patients over the age 18, and low-income seniors over 65 can join SunnyDay
Adult Day Health Care, after the approval of Center's dedicated staff, family doctors and the government. All expenses are paid by the California Medical program. Elders do not have to pay a penny, and joining SunnyDay will not affect their personal SSI income, nor alter any of the current medical insurance plans.
Contact: (626)350-3886